Clashes over tax rates, spending await as state lawmakers prepare to return to Raleigh for a budget-oriented session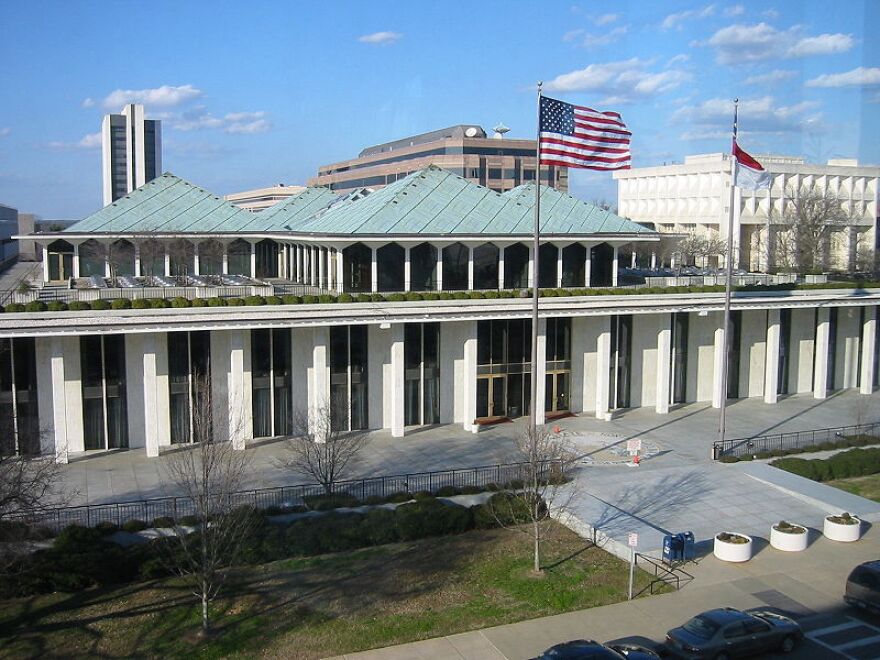 Rep. Robert Reives said he is hopeful, but tired. The Democratic leader of the state House also said he is not naive, but wants the upcoming legislative session to feature civil, if occasionally contentious, discourse.
"We do set the tone for how people will treat each other, how people will act," Reives said.
Then Reives might not have been too thrilled with the triumphant "our way or the highway" tone set by his Republican counterpart, House Speaker Tim Moore (R-Cleveland) when speaking with reporters back in November.
Moore and Senate Pres. Pro Tem Phil Berger (R-Rockingham) held a press conference last month, the day after the GOP swept the major contests of North Carolina's 2022 midterms, including a U.S. Senate race.
Republicans won all six statewide judicial contests, seizing a 5-2 majority on the North Carolina Supreme Court, where earlier this year the outgoing Democratic 4-3 majority had struck down GOP-drawn congressional and state legislative maps for being unconstitutionally gerrymandered with excessive partisan bias.
"Absolutely thrilled with this," Moore told reporters. "That would mean, I guess, a Republican majority is safe on the state Supreme Court for at least the next six to eight years."
Republicans have castigated Democratic justices for tossing out Republican redistricting plans and for affirming a lower court decision invalidating a mostly GOP-backed law requiring photo ID for voting in person.
Republicans hold a 'governing super-majority,' according to the state House Speaker
The GOP also enjoyed a strong showing in state legislative contests, even though Republicans fell one state House seat shy of an outright veto-proof majority. Moore cast that as a minor detail for the GOP majority in the 120-seat chamber.
"We now have 71 seats in the House," Moore said. "Would I like 72? Of course, I would like 72. But I will tell you that for all intents and purposes, we have a governing super-majority."
Republicans won enough of the 50 seats in the state Senate — 30 — to override a veto without any help from Democrats.
Based on comments from Moore and Senator Berger, the Republicans will use that "governing super-majority" to continue their fiscal policy of lowering corporate and individual tax rates.
"As long as we continue to see revenue outpace the budget in ways that we've seen, that means clearly that we're taxing too much," Berger told reporters.
"I can save you $100 in any year on your personal income tax but I'm going to raise your property tax $5,000, you're going to have to pay higher sales tax and you're going to have to pay all these other fees that people in a much higher bracket than you don't have to worry," said Representative Reives, expressing some skepticism about how GOP tax policies could affect working-class North Carolinians. "I think that's unfair."
Republicans, Democrats could find common ground on expanding Medicaid
But Reives cited bipartisan budget negotiations as a bright spot from the last legislative long session, in 2021, which he called "the most successful biennium" since he joined the legislature in 2014.
"Governor [Roy] Cooper was able to sign his first budget," Reives recalled. "We were able to get a far-reaching energy bill, I mean, one of the best energy bills in the country, definitely the best energy bill in the South."
And the two major parties could find common ground on expanding Medicaid. Before the midterms, state lawmakers came as close as ever to agreeing on legislation that could extend federally subsidized health care insurance to hundreds of thousands of low-income North Carolinians.
"I know that it's something that will be on the list of things that we'll be discussing next year," Berger said in his post-election remarks to reporters, adding that he continues to support expanding Medicaid coverage.
The crux of the issue on Medicaid expansion might be more about gaps between House and Senate Republicans than a lack of bipartisanship.
"I think we're close on some things, other things we're not," Speaker Moore said about Medicaid expansion. "Probably coming in next year with a more comprehensive discussion will be helpful."
More divisive issues like abortion, Parents' Bill of Rights loom
In and around budget talks, the Republican majority is likely to introduce more divisive legislation, including a measure on such culture war-type issues as the Parents' Bill of Rights.
"A number of members who supported that bill when it passed the Senate this past year are coming back," Berger said. Among other provisions, the measure would give parents more input on whether K-3 curricula include materials about gender identity or sexuality.
"I suspect that there will be good support for moving forward with that again," Berger added.
That bill passed the state Senate but stalled in the House this past session, facing a likely veto from Governor Cooper. But the GOP's gains in the midterms, as Moore pointed out, leave Republicans close enough to a super-majority that just one moderate Democrat could help override a gubernatorial veto.
"A lot of North Carolinians think parents ought to have more rights," said David McLennan, a professor of political science and director of the Meredith College Poll.
In a Meredith poll conducted last April, just over 47% of those surveyed said they would support legislation allowing parents to sue school districts if sexual orientation or gender identity was discussed in elementary school. More than 37% said they would oppose such a measure.
Poll shows public is less supportive of extremely restrictive abortion laws
"We have still not had a conversation with our members, particularly our new members, and we'll see where the caucus is and we'll see what is possible for us to do, if anything," Berger told reporters, after being asked whether Republicans would introduce abortion-related legislation in 2023. Moore, too, said he had to confer with his caucus before setting such legislative priorities for the upcoming session.
In the past, Moore has said he would support a so-called heartbeat bill, banning abortions after about six weeks. And Berger told the Associated Press in August that he would support a ban after the first trimester, or about 12 weeks.
The Meredith poll in late April showed a little more than 52% of North Carolinians support the kinds of rights that had been protected under the 1973 landmark case, Roe v. Wade. In June, the U.S. Supreme Court's conservative majority overturned Roe and upended 50 years of legal precedence that enshrined a woman's ability to seek an abortion without being unduly burdened.
Close to 40% support more severe restrictions, according to the Meredith poll, with 19% of those favoring an outright ban with some exceptions, and a little more than 9% supporting a ban on abortions after 15 weeks of pregnancy.