Henry Kissinger called supercarriers "100,000 tons of diplomacy," and that power has long been reflected in the Navy's conventions for naming them. Most are named for U.S. presidents. The USS John F. Kennedy. The Reagan. The Lincoln.The Navy now is quietly charting a new course. A supercarrier now on the drawing boards will be christened the USS Doris Miller.
Read More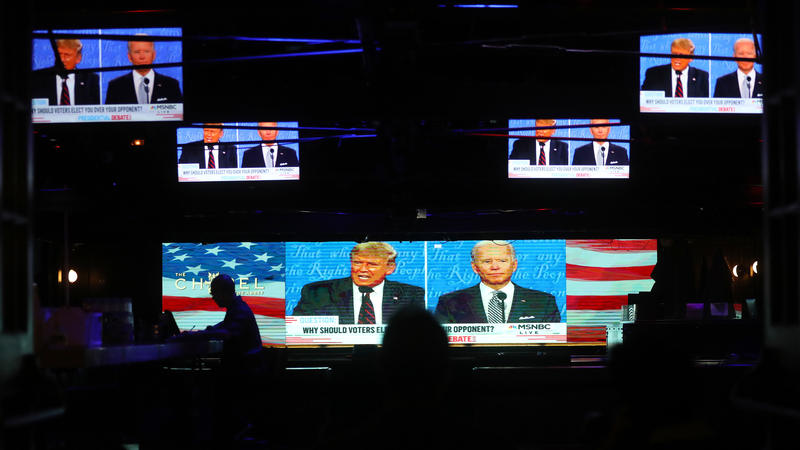 Updated at 4:16 p.m. ET After a debate plagued by interruptions and cross-talk — mostly from President Trump — many politicos, voters and journalists asked whether more could have been done to stop the chaos. Some asked whether the debates should continue at all. The Commission on Presidential Debates, the independent, nonpartisan group that has sponsored the debates since 1988, responded Wednesday, saying it is considering changes to the format before the next matchup: The Commission on...
Read More
Black lives matter. WUNC believes this because it is true, and truth fuels what we do at North Carolina Public Radio. WUNC does not believe that saying Black lives matter is a political statement, or supportive of any single organization, or that it conflicts with our journalistic mission. In fact, saying and believing that Black lives matter enhances that journalistic mission, by acknowledging the various levels of systemic racism with which our social, political and corporate establishments...
Read More
While going to the ballot box on Election Day is an important ritual for many voters, the coronavirus pandemic has introduced a change in routine. As of Tuesday, Sept. 28, the North Carolina State Board of Elections has received more than a million absentee ballot requests. At this time in 2016, the Board of Elections had received just over 100,000. While some voters hope to stay healthy by avoiding the polls, mail-in voting still presents some anxiety and uncertainty, especially for historically disenfranchised voters like African Americans and Latinos.
Read More
Now Playing