Across the country, more than 250 employees at meatpacking plants have died of the coronavirus. Congress has opened an investigation into the outbreaks as the companies try to stem the COVID infections.
Read More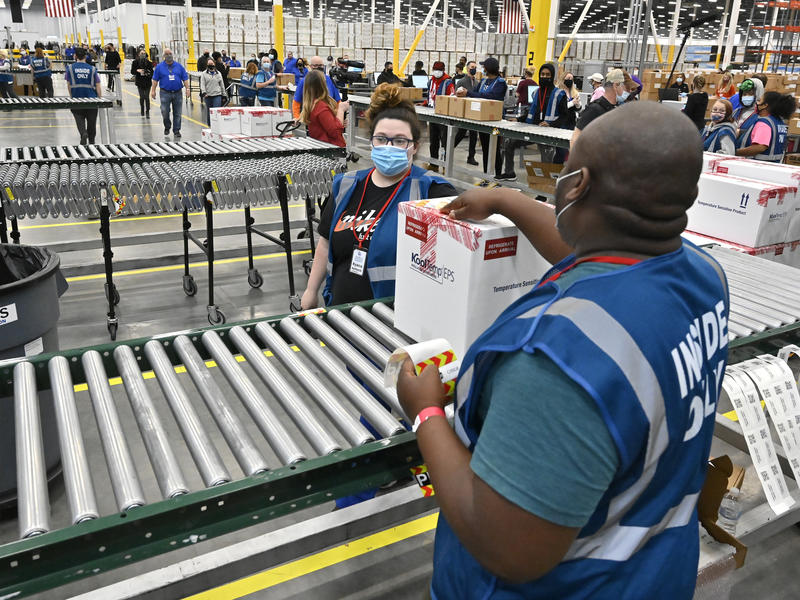 Johnson & Johnson has begun shipping nearly 4 million doses of its newly authorized COVID-19 vaccine across the U.S., officials said Monday, and is expected to further scale up supply in the coming weeks and months. "We think literally within about the next 24 to 48 hours, Americans should start receiving shots in arms," Alex Gorsky, Johnson & Johnson's CEO and chairman of the board, told NBC's Today . Both the Food and Drug Administration and the Centers for Disease Control and Prevention...
Read More
Black lives matter. WUNC believes this because it is true, and truth fuels what we do at North Carolina Public Radio. WUNC does not believe that saying Black lives matter is a political statement, or supportive of any single organization, or that it conflicts with our journalistic mission. In fact, saying and believing that Black lives matter enhances that journalistic mission, by acknowledging the various levels of systemic racism with which our social, political and corporate establishments...
Read More
How comfortable do you feel in gyms, fitness studios and exercise classes? With COVID-19 in our midst, we all may feel a little iffy about spending time indoors with people breathing hard — but what about even before the pandemic? In and outside of gyms, we get inundated with messaging about what we should look like and how physically fit we should be. This fitness culture tells us that unless we exercise a certain way and achieve a certain ideal — of thinness, whiteness and heteronormative gender presentation — we're doing it wrong.
Read More
Now Playing