Broken Flipper, Collapsed Lung; Nichols The Sea Turtle Finally Back In NC Waters
In the fall of 2012 a severely injured loggerhead sea turtle was rescued off the coast of North Carolina.
The loggerhead was brought to the Karen Beasley Sea Turtle Rescue and Rehabilitation Center in Topsail Island, and then was transported to North Carolina State University School of Veterinary Medicine where a team worked on her injuries. The team named the turtle Nichols and began to figure out the extent of the damage.
Nichols had a "crushing injury" to her carapace (or shell) which had caused her lung to collapse She also had a lacerated flipper, likely from getting tangled in a crab pot line. The bones in her flipper were broken and amputation was a possibility.
First the surgeons worked on Nichols' carapace. They cleaned the wound. The tissue and fragments had actually been pushed into the turtle's body cavity. Once the cleaning was done, the surgeons watched Nichols' collapsed lung inflate.
"Everyone could literally take a deep breath," after watching the lunch inflate, notes the Sea Turtle Rescue and Rehab Center report. The surgeons then moved on to the flipper. They reset the bones and sutured the wound.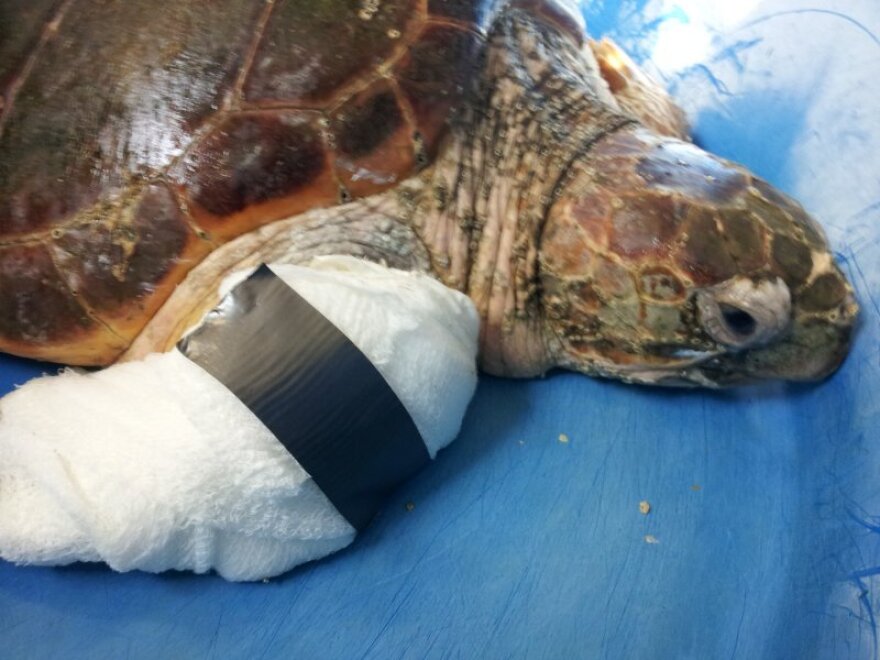 "Her recovery ... has been amazing to watch," notes the staff at the center. "While we had hoped she would take it easy on her reset flipper she insists on using it to navigate around and around for hours. She's probably thrilled to find out that it actually 'works' again! And she's got a great appetite now that she's feeling so much better."
On Wednesday, Nichols was released back into the ocean.
Loggerhead sea turtles are the most prevalent type of sea turtle found in North Carolina waters. The loggerhead is not endangered, but it is threatened. Adult loggerheads can weigh up to 350 pounds.
The Karen Beasley Sea Turtle Rescue and Rehabilitation Center is a nonprofit organization staffed by volunteers. It's located in Topsail Beach, NC. Their mission is to successfully rehabilitate and release injured or sick sea turtles from the wild. Since 1996, 152 sea turtles have undergone successful rehabilitation at the center and have been released. Nichols' surgeons was Dr. Michael Grafinger of of Triangle Veterinary Referral Hospital.