Stories and features about North Carolina candidates, voters, and the politics of the 2014 mid-term elections. Polls are open across N.C. until 7:30 p.m. on election day, November 4.
Citizens Give Lawmakers An Earful About Congressional Voting Maps
North Carolina lawmakers heard from dozens of citizens on Monday, as they await a decision from the U.S. Supreme Court on whether they will be required to immediately re-draw some of the state's congressional district lines.
About 80 people signed up to speak to lawmakers during a five-hour meeting heard at the General Assembly building and five satellite locations from the mountains to the coast. Some did not answer when their names were called and inclement weather forced the cancelation of a site in Guilford County.
Republican lawmakers announced the meetings late Friday afternoon after a Feb. 5 court ruling struck down the majority-black 1st and 12th districts they drew in 2011. A three judge panel from the Fourth Circuit U.S. Court of Appeals in Richmond called the districts illegal gerrymanders, saying lawmakers relied primarily on race to draw them.
The federal judges said North Carolina lawmakers must draw new maps by this Friday. Lawmakers have asked the U.S. Supreme Court to stay the lower court's ruling, but are moving forward with plans for new maps in the event they don't receive a stay. They asked the public for input because the appellate court's decision was not clear on parameters for new maps, according to Rep. David Lewis, a Republican from Lee County one of the chief map designers.
"Maybe someone out there can offer us an idea in how we can draw a plan that will be more fair and more legal than what we've drawn," Lewis said in an interview.
A handful of speakers at the hearing offered recommendations, such as establishing an independent non-partisan voting commission to re-draw the maps or drawing maps based on voters' party registration instead of race. But an overwhelming majority chided the federal judges or the Republican lawmakers.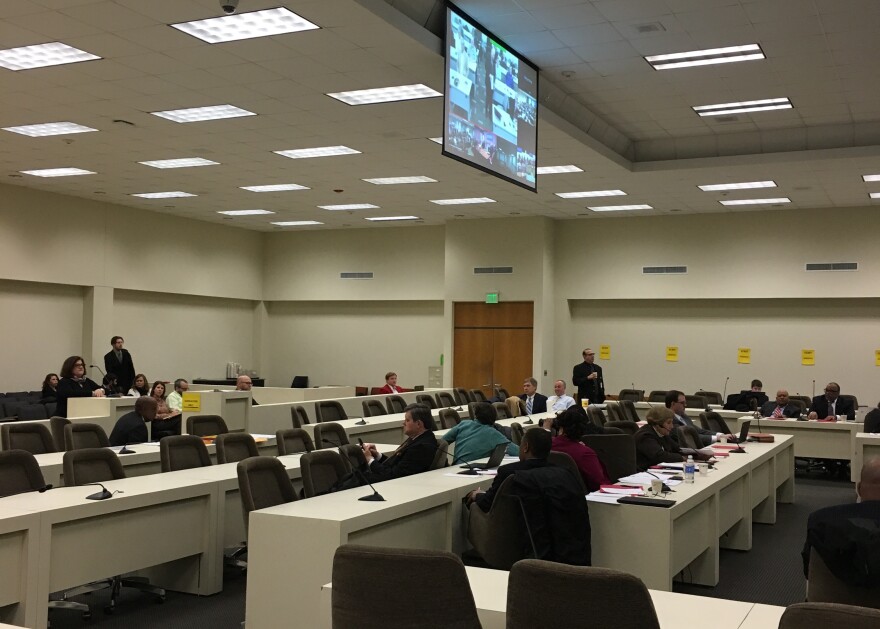 Supporters of the 2011 maps blamed the federal judges for creating what they called chaos four weeks before North Carolina's primary elections. Elections officials have already begun receiving absentee ballots by mail. Opponents blasted legislators for holding elections in 2012 and 2014 with maps that packed black voters into a few districts. The 1st District covers parts of 24 counties in the Northeastern part of the state while the 12th covers the Interstate 85 corridor from Greensboro to Charlotte.
Sen. Dan Blue, a Democrat from Wake County, said in an interview that he was skeptical lawmakers would listen to public comments.
"It was all theater," he said.
The federal appellate court could re-draw North Carolina's voting maps if lawmakers don't make the Friday deadline, said University of Richmond Law Professor Carl Tobias. The court recently struck down Virginia's congressional voting maps, saying they had been racially gerrymandered. After the Supreme Court denied a stay and Virginia lawmakers failed to draw new maps, the court issued new ones.