Coal ash is the waste that remains when coal is burned. It is usually collected in a dump, known as a pond. North Carolina has more than 30 such sites in 14 different locations across the state. A pipe running under one of the ponds run by Duke Energy in Eden NC ruptured in February of 2014. The coal ash spilled, largely affecting the Dan River which flows into Virginia. The spill is the third largest of its kind in U.S. history.Many see potential complications because North Carolina's governor, Pat McCrory, worked for Duke Energy for 28 years.
DEQ Changes Its Tune On Coal Ash Basins
The Department of Environmental Quality has made significant changes to how Duke Energy may have to handle coal ash at its basins across the state.
DEQ released a final report that ranks all the state's 33 coal ash basins by threat level. Unlike its previous draft report released last December, this one classifies all of the basins as either high or intermediate risk. By law, that means Duke Energy must move ash at all of them.
Previously, 13 basins had been classified as low or low-intermediate, meaning they could have been capped in place - a cheaper alternative.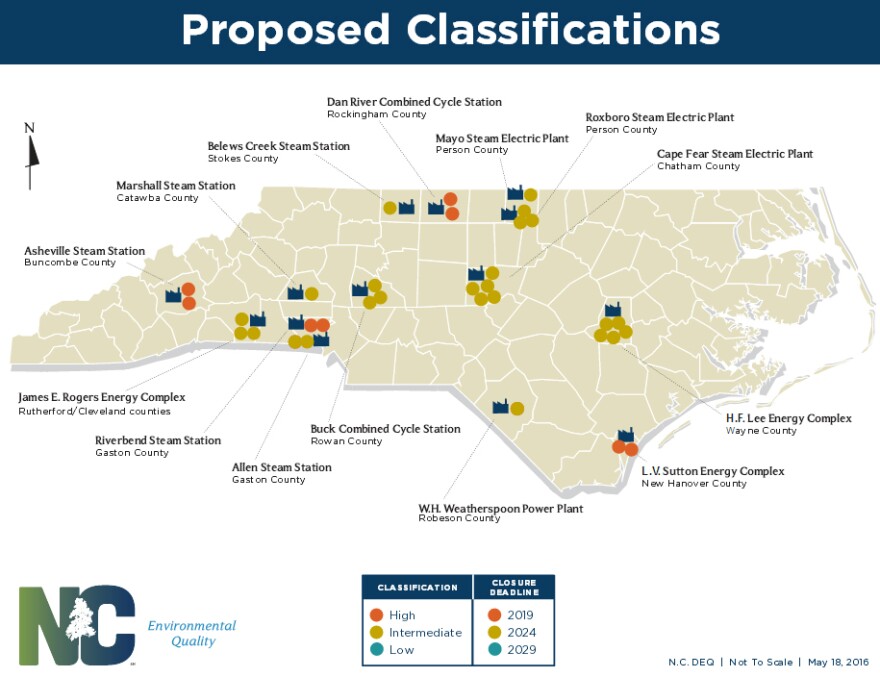 In a statement, Duke Energy said the new rankings will cause "decades of disruption to communities, all without additional, measurable environmental benefits."
"If the state chooses to allow these rankings to stand, without the benefit of the additional information and additional work, then North Carolina will have chosen the most extreme option to close ash basins," said Duke Energy CEO Lynn Good in a video statement.
Duke Energy says the new rankings could lead to missed deadlines for coal-ash removal by 2024.
The new DEQ rankings were met with mixed reviews from environmental groups.
"In light of overwhelming public comment asking that no community be treated as low priority, we are encouraged by today's announcement," said Molly Diggins, State Director of the NC Sierra Club.
Duke Energy is currently moving coal ash at several locations, including the Dan River site, where a spill in 2014 led to the passage of a law by the General Assembly mandating the review process.
DEQ also asked that its final plan be reconsidered within 18 months by the legislature, at which time changes could be made.
"The deadlines in the coal ash law are too compressed to allow adequate repairs to be completed," said Donald R. van der Vaart, secretary of DEQ. "Making decisions based on incomplete information could lead to the expenditure of billions of dollars when spending millions now would provide equal or better protection."
The possibility of a reassessment in 18 months did not sit well with some.
"This administration's determination to bail out Duke Energy knows no end," said D.J. Gerken, senior attorney at the Southern Environmental Law Center. "Asking permission to change its story in 18 months allows Governor McCrory's administration to say one thing to get through the election this fall, all subject to revision after the election."
Other groups, such as the Sierra Club and Appalachian Voices, expressed similar reservations with the 18-month reassessment.
DEQ says that no dams present an imminent risk to life or property, and that state regulators will use their existing legal authority to ensure those repairs are completed by the end of this year.