#BackChannel: A Rap Album Dissertation And 'Get Out'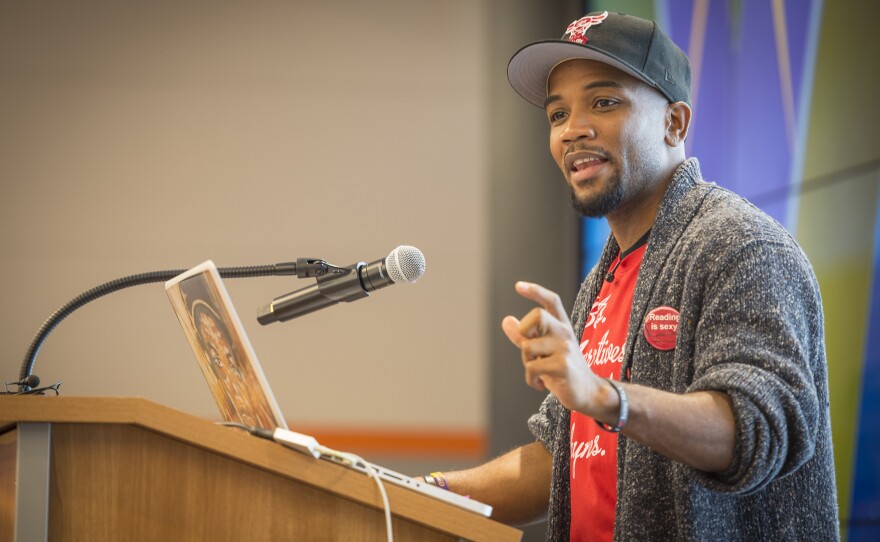 Doctoral student A.D. Carson defends his dissertation 'Owning My Masters: The Rhetorics of Rhymes and Revolutions'
Ken Scar
In this Feb. 9, 2017 photo, Jordan Peele poses for a portrait at the SLS Hotel in Los Angeles to promote his film, "Get Out." Peele's thriller sensation crossed $100 million over the weekend, reaching that milestone in just 16 days.";
Rich Fury/Invision/AP
Shawn "Jay Z" Carter announces the Weinstein Television and Spike TV release of "TIME: The Kalief Browder Story" during a press conference at The Roxy Hotel Cinema on Thursday, Oct. 6, 2016, in New York.
Charles Sykes/Invision/AP
Hip-hop music has long been revered for showcasing nuanced messages about marginalized communities. Nas' 1994 debut studio album "Illmatic" is praised as a seminal, lyrical portrayal of life in New York City. Meanwhile, Beyonce's 2016 album "Lemonade" was heralded for its powerful messages about black feminism. Works like these achieved large commercial success, but what happens when hip-hop extends beyond the airwaves and into the academy?
A.D. Carson, a Ph.D. candidate at Clemson University, tested the waters with a 34-track rap album dissertation. The project is called "Owning My Masters: The Rhetoric of Rhymes & Revolutions." It highlights messages about issues like police brutality, mass incarceration and institutional racism. In this episode of "BackChannel," host Frank Stasio and popular culture experts Natalie Bullock Brown and Mark Anthony Neal talk with Carson about his project. Natalie Bullock Brown is a professor of film and broadcast media at St. Augustine's University in Raleigh, and Mark Anthony Neal is a professor of African and African American studies at Duke University in Durham.
https://www.youtube.com/watch?v=1LrWYtJ7g8g