Carl Kasell Helps With Surprise Marriage Proposal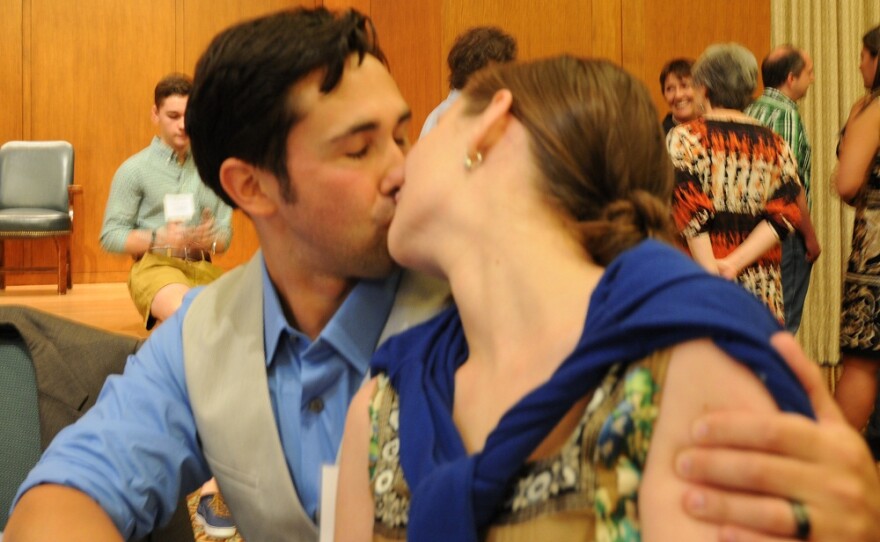 Howie Sanborn and Faith Kline
Carol Jackson
Carl Kasell quieted the room at his recent retirement party.
Carol Jackson
Howie Sanborn popped the question. The ring was in a box Carl Kasell had authographed.
Carol Jackson
Howie Sanborn and Faith Klein. Former NPR newsman Carl Kasell helped Howie pop the question.
Carol Jackson
Six months before Faith Kline met Howie Sanborn she devised a list with 126 points on it; criteria that her future husband would have to match before she said, "I do."
And then, the two saw each other across some bike racks on a cold March morning in 2012. Howie was participating in a triathlon. He thought she was cute. She remembers his twinkling eyes.
The problem was, Faith was there to watch her friend's children during the race and Howie wasn't sure - Were those Faith's kids? Was she with that other guy?
The two didn't exchange numbers, but Howie did look her up on Facebook, and it was clear she was single. "There were no pictures of her with this dude," he remembers.
Early on, Faith required Howie to "interview" for the position of boyfriend. He had to talk with her five closest friends. Faith had long admired the good relationships that many of her friends enjoyed, and Faith wanted what they had.
"They said that the key to success is defining what your future looks like," Faith said. Hence the list, and the in-person interview. Incredibly, Howie met every one of Faith's 126 point list - except for one. He wasn't quite tall enough.
Howie had served two years in Iraq for the Army as an Airborne Ranger. He was a member of the Golden Knights, the Army's elite paratrooper team. He competed in marathons, and triathlons. He even practiced yoga, something that was important to Faith because she's trained as an instructor.
Soon the two were inseparable, But then, tragedy struck. Howie was on a bike ride near his military base when he was hit from behind by a vehicle. The accident broke his neck and severed his spinal cord. Howie is now paralyzed from the waist down.
Faith has been by his side ever since. She quit her job and moved to Chicago so she could be with him during rehabilitation. If the two knew they were meant to be together before the accident, they definitely knew that their relationship was solid now.
The proposal
Faith actually proposed to Howie this past March. Howie had participated in a wheelchair road race - the first race he'd been in since the accident a year earlier. Faith was waiting at the finish line.
"He was in the zone and he passed me by! I ran and tapped his shoulder. He tried to remove his helmet and couldn't. So I just said 'Give me your hand,'" Faith laughs. It was awkward.
"She stole my thunder," Howie said. "We're competitive." Howie felt that he had to outdo Faith's proposal. And then, he thought of legendary NPR announcer Carl Kasell. He'd heard on the radio that Kasell was coming to town for a retirement party hosted by WUNC.
"We both love WUNC and NPR. I thought that I had missed the opportunity [to attend the Carl Kasell event.] But then I heard on the radio there were still tickets, so I called in."
Howie's plan was just to get Carl to autograph the ring box. Instead, Carl Kasell used that recognizable voice to assist in the proposal. Kasell quieted the crowd, and told Faith that Howie had a question to ask her. The memory of that moment will last a lifetime, Faith said.
The two will marry aboard the USS North Carolina Battleship on Halloween. The costume party is a fundraiser for an organization that works to help kids with physical disabilities get involved in adaptive sports.