School Districts Across State Win Grants To Improve Digital Learning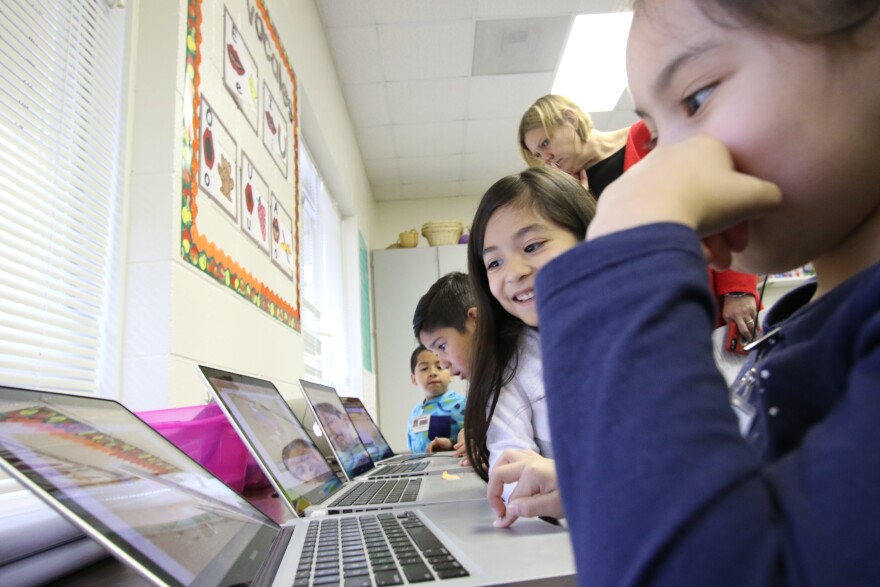 The State Board of Education this month approved $1.2 million in grants to support digital learning initiatives in 30 school districts and one charter school. The grants are paid for by the state's digital learning plan fund.
The plan is a blueprint for helping public schools use digital materials more in everyday instruction. The plan also has an accompanying fund to help schools make that transition, and this is the first year that grants will be awarded from the fund.
Grants of up to $50,000 are awarded to schools in two categories: one for planning digital initiatives and curricula and another for schools with impressive digital projects to showcase their work and share their models with other schools.
Delia DeCourcy is the director for digital teaching and learning at Chatham County schools, which won one of the planning grants. DeCourcy says professional development is a big need when it comes to digital initiatives. Chatham County Schools will use its grant to create teams of teachers who will plan new ways to blend computer-based activities with traditional face-to-face instruction.
"We can come up with a vision for digital teaching and learning, but ultimately, the boots on the ground -- the principal in every school, the digital learning facilitator, the teacher leaders -- those are the people who are really making it happen for students," DeCourcy said.
We have to prepare students for the world they're graduating into, and that means instruction needs to change. - Delia DeCourcy
She says meeting that vision means changing what teaching and learning looks like. DeCourcy describes the ideal classroom as one in which students are highly engaged, the classroom is student-centered, and there are lots of group exchanges around digital devices.
"It's not the 'sage on a stage' model that you commonly saw in the 20th century," DeCourcy said, referring to the common style of instruction where a teacher lectures and leads classwork.
Digital learning advocates say even schools with plenty of technology still need staff training to have more effective digital initiatives. Chatham County Schools provides a laptop to every high school student, branding it a "1-to-1" school system. It was one of the first districts in the state to reach that achievement. DeCourcy points out that North Carolina is also a leader in this realm.
"Not every state has a digital learning plan," said DeCourcy, "North Carolina is really out ahead in this area."
DeCourcy says she's glad the state commits funding to digital learning.
"We have to prepare students for the world they're graduating into, and so that means instruction needs to change," DeCourcy said. "We can't even conceive of the jobs that will exist for the current kindergarteners when they graduate from college."