NC School Boards Demand $730 Million In Backpayment For School Technology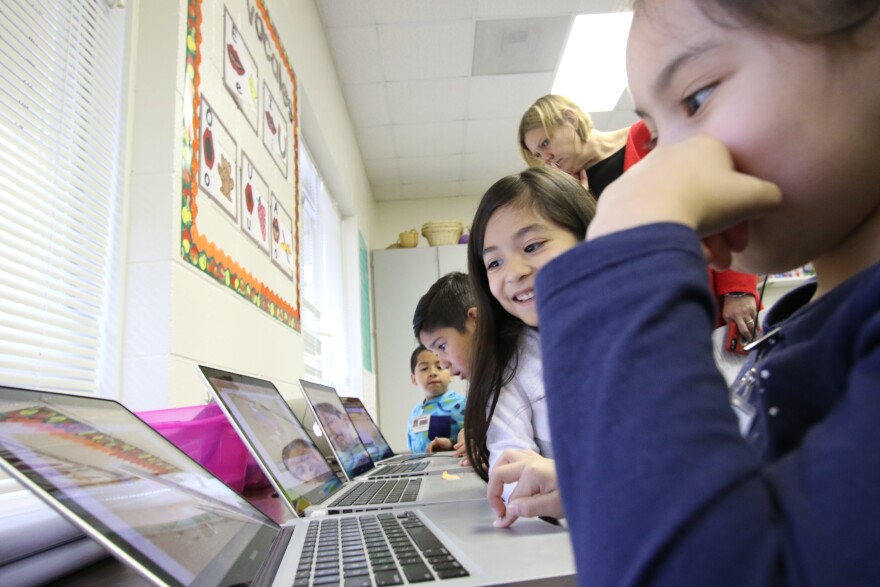 The North Carolina School Boards Association has taken a new step in a long-held legal battle over public school funding. The association filed a complaint Wednesday demanding state agencies pay hundreds of millions of dollars to fund technology in schools.
First, some background. The North Carolina Constitution says in Article IX, Section 7 that the proceeds of all fines collected in counties for breach of state laws will go to fund public schools. That hasn't been happening - and the issue has been brought to court multiple times.
The North Carolina Supreme Court decided in 1996 in Craven County Board of Education v. Boyles that certain civil penalties collected by state agencies should go to public schools to fulfill that constitutional mandate. The General Assembly then passed a law to create a fund to receive those fines and forfeitures. The law also directs that the funds will be allotted to schools statewide, with each school district receiving a portion based on their enrollment to be used exclusively for technology.
In 2008, the state Supreme Court ruled in North Carolina School Boards Association v. Moore that the state owed public schools nearly $750 million for civil penalties certain state agencies had collected between 1996 and 2005. Currently, only about $18 million dollars of that has been paid – by one of the defending state agencies, the University of North Carolina. That leaves $729,699,823 unpaid.
This week, an attorney representing the North Carolina School Boards Association and 20 county school boards filed a complaint against those seven state agencies to demand back-payment plus interest on the unpaid judgment.
"The plaintiffs did not want to file this lawsuit," said attorney Rod Malone. "But after ten years of unsuccessful attempts to collect on the judgment or to reach an amicable settlement of the matter, the plaintiffs had no choice."
One major factor contributing to the delay in payment is that shortly after the 2008 judgment was made, the United States entered the Great Recession, dramatically constraining the state budget. But representatives for the Association say the General Assembly has for ten years continued to fail to act to direct the state agencies to pay, or to create other funding sources to satisfy the judgment.
NCSBA Director of Governmental Relations Leanne Winner sent a letter to Senate President Pro Tem Phil Berger and House Speaker Tim Moore in March to say that the Association intended to seek an extension of the judgment, which expires after ten years. That letter also offered to discuss a settlement. Winner says she has also worked for years to push for legislation that would satisfy the debt, without success.
Without action from legislative leaders, the North Carolina School Boards Association filed its complaint on the ten year anniversary of the North Carolina School Boards Association v. Moore decision, to extend the deadline on the judgment. The new lawsuit alleges that defendants "willfully and intentionally failed to pay the vast majority of the judgment."
The amount of funding sought from each defendant state agency is as follows:
Department of Health and Human Services owes $53,955
Department of Commerce owes $11,560
Department of Environmental Quality owes $20,781
Department of Revenue owes $583,340,162
Department of Transportation owes $104,071,323
University of North Carolina owes $42,368,982
Employment Security Commission owes $20,019,408